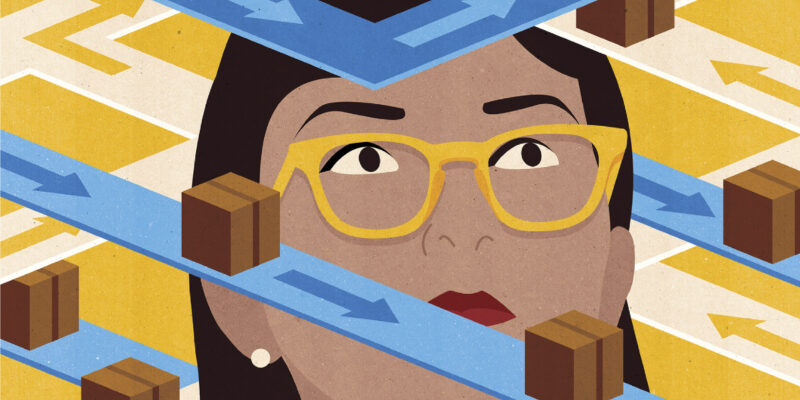 Capital Call
Logistics-tech marches ahead, despite bumps and hurdles
One of the biggest news to come from the Indian startup ecosystem so far this year is the IPO of Delhivery, the Delhi-based logistics-tech startup founded in 2011. Although the IPO started with just three percent of the issue subscribed on the first day, it has done much better than other big IPOs like Nykaa and Paytm. (On June 24, 2022, Delhivery's share price was Rs.492; its listing price a month ago was Rs.493. On the same date, Nykaa's stock value has fallen by 30% from its initial listing price and Paytm's by 70%.)
The Delhivery IPO proves not just the investor value the organisation has built, but also the growth of the logistics-tech sector in India.
For the hundreds of thousands of businesses across sectors struggling with the infrastructural challenges and inefficient workforce in the highly unorganised Indian logistics industry, technology has emerged as a game changer in the last decade. After all, necessity is the mother of invention, and technological innovations for the logistics sector have transformed every aspect right from packaging, warehousing, transporting, you name it. I daresay about logistics-tech: it came, it saw, it conquered.
However, the logistics costs in India are much higher compared to the developed world. A recent report by consultancy firm RedSeer says that logistics spending contributed to 14% of the overall GDP of India compared to the global average of 8%, and road logistics has the largest share with 60% of the overall market spends.
Improving the sector would assist in a 10% decrease in indirect costs, as per the Indian Economic Survey 2021. It predicts that the Indian logistics market would be worth $215 billion by 2024. The sector needs more capital, better tech adaptation among the asset-owners and blue-collar workforce, newer business models, and much more to truly bring about a revolution.
With the government permitting startups in the delivery sector to experiment with newer technologies like Below-Visual-Line-Of-Sight (BVLOS) drones, we are looking at a new era for logistics-tech in the country. There is huge scope for further innovation, and a need to focus on the cost of logistics altogether.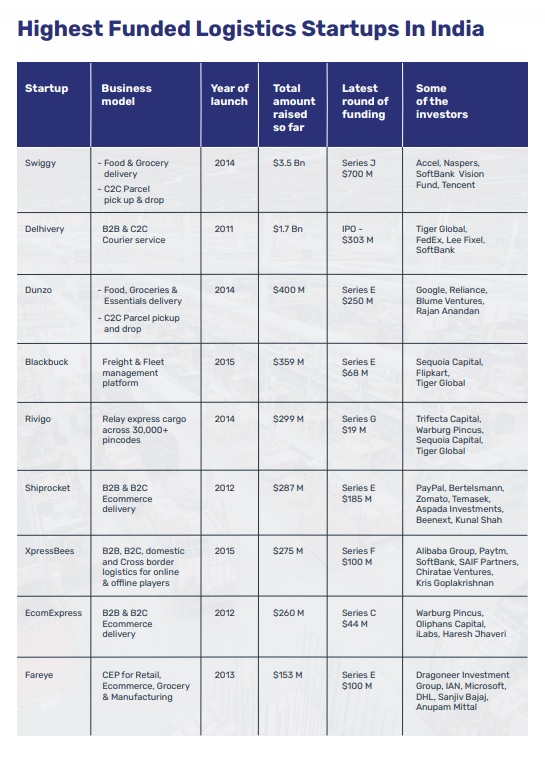 McKinsey's Travel, Logistics & Infrastructure Practice report 2021 estimates that advanced technology can reduce logistics costs by about 25% and help companies offer better service.
I can see why.
Imagine: Ten years ago, a full-load truck from Bangalore to Guwahati would have cost a few lakhs of rupees to the seller, as the return charges have to be included; otherwise, the empty truck coming back all the way to Bangalore causes loss to the driver/asset owner.
But today, technology helps supply-demand match, and hence the same truck coming from Guwahati to Bangalore will have at least half-full load. This will give some profit margin and hence the first seller does not have to pay the return charge.
Without technology, such a supply-demand match is nearly impossible. Rivigo and Blackbuck, both unicorns, have established themselves with this service. (Rivigo has more than 200,000 fleet owners in their network which enables their relay trucking, while Blackbuck has more than 300 service locations across India to help the shippers.)
However, according to a report by Arthur D Little India and CII this year, there is a
competitiveness gap of $80 billion in the sector due to higher logistics costs in the country, and it will be $500 billion by 2030 if the inefficiencies in the supply chain are not solved. (Competitiveness gap is the distance separating an organisation/country from a given benchmark. In this context, the gap refers to the one between the current average revenue/profitability of the sector in India and the global average.)
In a climate of fuel price hikes – which are bound to increase the costs of logistics, and in turn, end price for the customer – tech can bring efficiency in supply chain and help brands keep the price hike to a minimum.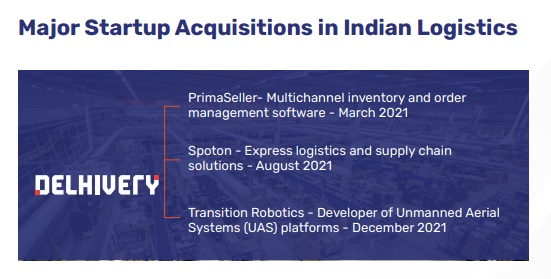 For instance, route optimisation technology can help create cost and fuel-efficient routes which will result in shorter TAT (turnaround time) as well as more deliveries per trip. Remote tracking allows fleet managers to plan the delivery schedules and get real-time alerts on any anomalies like accidents, thefts etc. as well as traffic conditions. SaaS platforms like Loginext, Bringg, Shipsy, Blackbuck, and Fleetroot are among the startups working to build such visibility and easy management in logistics. Shipment tracking technology provides end-to-end visibility of the supply chain, and monitors vehicles, goods, and drivers. Indian startups like Tagbox, Fleetx, and GoBOLT are already building IoT for logistics.

IoT products like RFID tags and sensors can track the status/position of goods, and GPS trackers and environmental sensors can even measure the temperature, humidity and other parameters of the assets. Also, predictive IoT applications can automate vehicle maintenance and repair.
                                             

Not to forget, this is the age of Web3. Blockchain technology, which powers this phase of the internet with security and transparency like never before, is making a mark in logistics-tech too. It enables transparency in the chain of custody and eases processing of international trade documents, while also providing secure data storage (as the stored data cannot be changed in Blockchain networks). Startups like Signzy, Eka, Transo, and Statwig, specialise in Blockchain for logistics.

I believe that the next stage in the growth of logistics-tech can come from multiple aspects:
1. Foray into medical/pharma industry: Currently, no big players rely on third parties due to the need for absolute reliability of the supply chain. However, logistics-tech can provide the Artificial Intelligence and Machine Learning which can help healthcare centres reduce costs by optimising sourcing and inventory management. The consolidation of data in the healthcare industry can vastly improve supply chain efficiency and patient care. Implementing logistics software that is compatible with existing supply chains would help scaling as well.
2. More advancement in the agri-tech sector: Agri-tech startups focus on the supply chains of agri-inputs, as well as dairy and poultry. Digitisation of the supply chains account for 85% of the total investment in Indian agri-tech startups in 2020, according to ThingAg, a platform for accelerating innovations in the food and agriculture sector. As Shopkirana Co-founder and Supply Chain head Deepak Dhanotiya points out, most of the agri-commodity is moved by traditional trucks even today. "The first-mile of agri-logistics needs aggregators. Since the agriculture market is huge (worth $288 billion in 2021 according to market research firm IMARC Group) even owning 1% of it will make a huge player," says Deepak.
3. Adoption of electric vehicles: Multiple State governments have mandated aggregators to go 100% electric by 2025. Even though India is yet to build an EV ecosystem with charging infrastructure facilities, I am sure that the multiple startups in this space will see to it. For instance, e-grocery startup VegEase began deploying EV in its last-mile logistics in August 2021 and will move completely to an electric fleet by 2024. The company has said that this move will contribute to an operating cost reduction of 25%. Agri-tech startup Waycool has recently launched a 100% EV distribution hub in Bengaluru and plans to expand the same.
4. Training the blue-collar workforce: Adoption of technology is rising among the blue-collar workforce; but a higher level of proficiency can come only with professional training. Abhishek Nehru, founder of digital-first distribution platform Ripplr, says that his company trains the truck drivers and warehouse staff in-house since it is hard to find well-trained blue-collar manpower. "They are comfortable using smartphones now; but tech adoption is yet to go a long way. Proper training and efficiency can eventually lead to higher salary for drivers too," he says. A few startups are already working in the skill-development for logistics workforce. Larger logistics companies like AllCargo and NTC have established their own training centres (with government accreditation) to train drivers.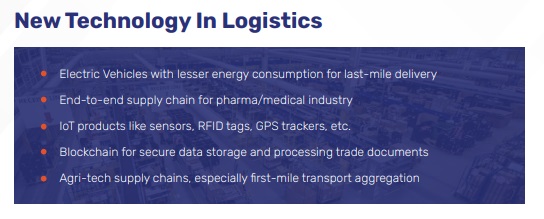 The time has never been better for investing in the logistics-tech sector, as existing
businesses are proving their mettle while new players are also shaping up well. Models like Dunzo and DelhiveryDirect have already proven that C2C is a huge market. With Quick-Commerce (like Blinkit, Zepto and Zipgo) and last-mile logistics demanding more innovation, newer business models are bound to come up.
A gigantic market The amalgamation of last-mile delivery and sharing economy is something I am looking forward to. The right tech can match available capacity of commuters with delivery demands for intra-city last mile deliveries.

Models like UberCargo, UberRush, and Dolly in the US, and Nimber from Norway are already using technology to match commuters with consumers looking to ship something. (Depending on the commuter's vehicle storage space, the size and volume of the shipments can vary.)


Likewise, Alibaba's Cainiao enables its network members to access a unified logistics data platform for order fulfilment by leveraging each other's capabilities.
These models can be replicated in India, especially for B2C transactions. With D2C businesses rising, the industry will move towards smaller-sized shipments and faster deliveries anyway.
The Economic Survey had stated that the Indian logistics industry employs at least 22 million people currently, and this is bound to increase as the sector grows. Transforming the sector, especially in an era of fuel price hike, would impact not just the people dependent on the sector for livelihood, but the future of the Indian economy itself.
Logistics-tech is looking at a new era of possibilities, especially with the ULIP (Unified Logistics Interface Platform) aiming to create a National Single Window Logistics Portal, and multi-modal logistics parks coming up under the union government.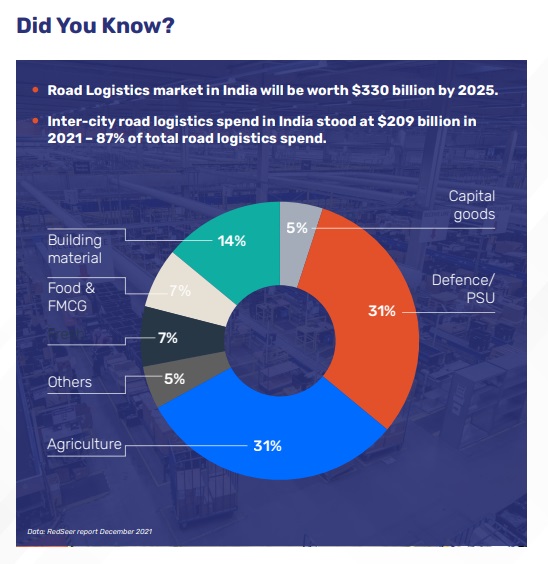 Tech giant Google's Supply Chain Twin – a cloud service that replicates physical supply chains digitally – has brought down analytics processing time from 2.5 hours to 8 minutes in some cases! It won't be long before Google does to supply chains, what Amazon did to enterprise management with AWS – bringing down prices for good!
I am ready to bet that, with the right capital, the extraordinary talent pool in the Indian tech workforce can do similar wonders. I hope investors will ensure that lack of capital shall not hold this sector back from achieving its full glory.