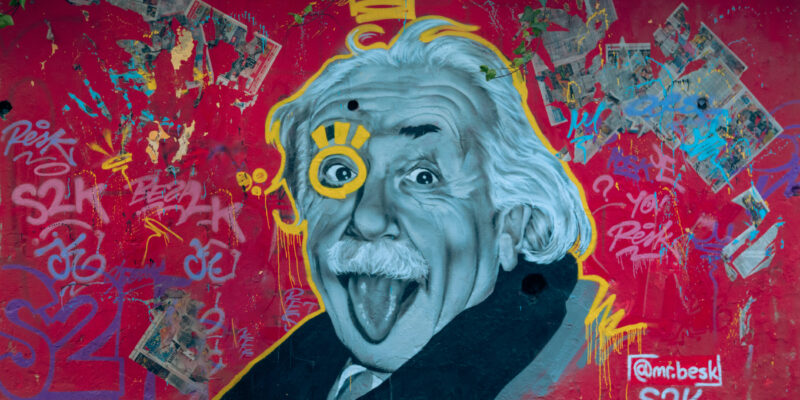 Blogs
To AI or not to AI?
A few years ago, Manuraj Jain got a startup idea from his driver. He used to borrow money from Manuraj frequently to deposit in a small rotating scheme (or "chitty" and "committee" as it is colloquially known), a savings system popular among the low-income population of drivers, maids, street vendors etc.
In the offline world, 'group owners' of such funds get a group of people together, collect a specific amount of money from all of them, conduct an auction, and disperse the money among them. Coming from a tech background, Manuraj was curious to bring this system online. 
Manuraj's initial idea was to make an app for the group owners to help manage the groups. But the group owners did not want to use the app because they use cash and not digital money. After talking to around 2000 people who downloaded the app (over a year), Manuraj understood that what they needed was reliable people to make up their groups. "They asked me to help them meet such people. But that would mean that I have to take credit risk. After some initial reluctance, I decided to do it," he says. 
Thus, after trial and error, he launched The Money Club, world's first AI-backed online group savings platform, in 2016.
The Money Club uses Artificial Intelligence for verifying its users who do not even have a bank statement, based on the data from the app they download, thus building a network of trusted individuals. Every new user is verified against the 'power users' with an AI code which is trained to reflect the latest status of the power user on the platform. The incoming leads are taken forward only if they match the power users by 40%.  
"AI has helped us keep default rates below 1.4%. Even the banking and chit fund industries have 3% or more," says Manuraj.
To weed out unscrupulous users from the system, the AI platform collects transaction data – 20x more than any fintech company, Manuraj says – and qualifies users as a good/bad user based on their transaction patterns. If a user is delaying their transactions, they are not allowed to the next level. (Every user group has 10 members each, and their corpus starts from Rs.600/month and goes up to Rs.40,000/month. Users are 'promoted' to higher-corpus groups based on the discipline of their transactions.)  
Just like we didn't see AI coming to take over something as traditional as chit funds, we are surprised, and excited, at the rise of Rephrase.ai, which converts text to video and has found numerous applications across sectors. We recently had a chat with its Co-founder and CEO Ashray Malhotra on how they worked with Shah Rukh Khan and created history for Indian advertising: 
The Money Club and Rephrase.ai are just a couple of examples of how AI can change the way industries work and evolve, for the better. 
The past few weeks have been all about AI, with ChatGPT and Bing shocking humankind with accuracy and efficiency like never before. AI-based chatbots may be old news, but the newly-found applications are reimagining AI and,  as Bill Gates writes, will change the way people work, learn, travel, get health care, and communicate with each other. ChatGPT plugins can access third-party databases and knowledge sources and let users book restaurants, book travel, buy groceries, and do complex maths problems! 
And India is not laid-back when it comes to this sector. In fact, this report states that the Indian AI market size reached $680 million in 2022, and will reach $3.9 billion by 2028, with a CAGR of 33.28% during 2023-2028.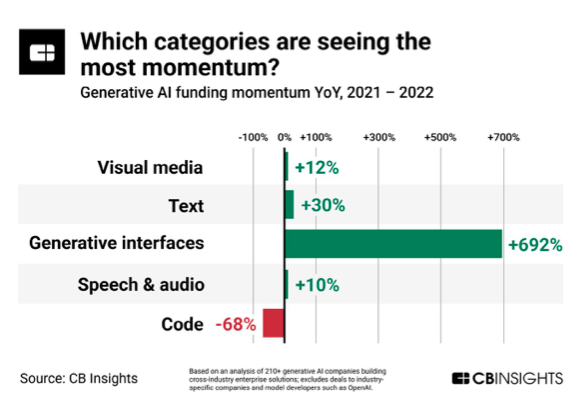 However, we cannot ignore the fact that AI comes with its own flaws. A bunch of AI researchers and tech leaders including Elon Musk and Steve Wozniak, and anthropologist Yuval Noah Harari, have signed a petition to 'pause giant experiments on AI,' stating that 'AI systems with human-competitive intelligence can pose profound risks to society and humanity.' 
The petition adds: "Advanced AI could represent a profound change in the history of life on Earth, and should be planned for and managed with commensurate care and resources. Unfortunately, this level of planning and management is not happening, even though recent months have seen AI labs locked in an out-of-control race to develop and deploy ever more powerful digital minds that no one – not even their creators – can understand, predict, or reliably control." The petition has called on all AI labs to immediately pause for at least six months the training of AI systems more powerful than GPT-4.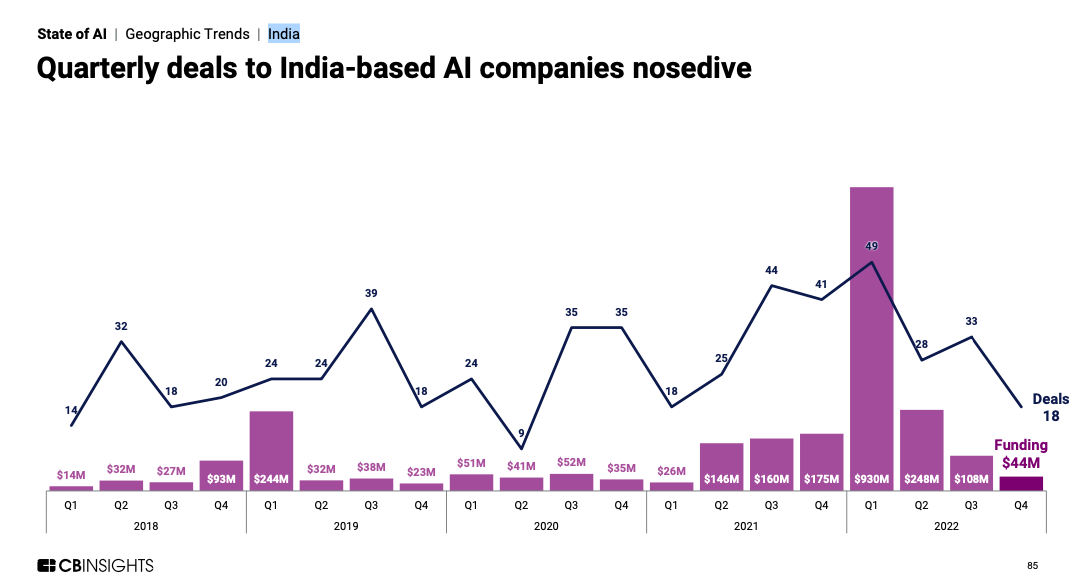 No doubt, AI has a long way to go before it can achieve the security and accuracy expected of it. But the question is: are we ready for it? 
Even artificial intelligence has to be built by human intelligence, and, at least in India, finding the right talent to write AI codes is a major challenge. The state can, and should, help by introducing AI-focused curriculum and encouraging innovation beyond IT hubs.  Governments also carry the responsibility to monitor the use of AI while also encouraging its advancements. AI startups also need vigorous backing from the larger ecosystem. The funding patterns in Indian AI startups in the recent past has not been promising.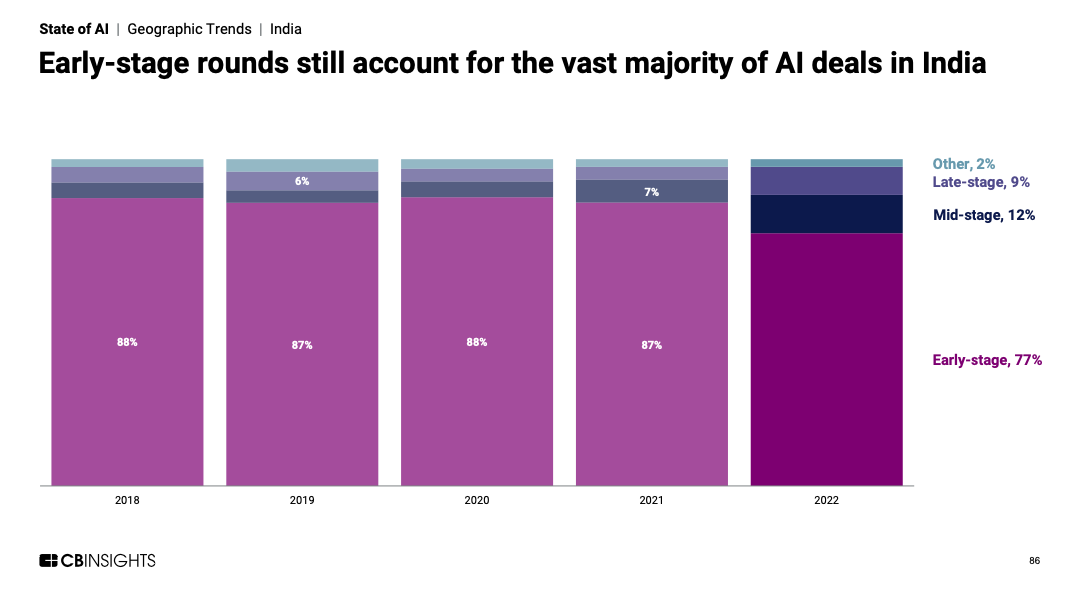 Whether the AI advancements happen in six months or six years, there is no doubt that the talent and regulations need to be nurtured well. Yet, Indian entrepreneurs in the AI sector are actively persevering. Although India so far has only one unicorn in the AI sector – Fractal Analytics, which launched in 2000 – growth-stage startups like Sigtuple, Mad Street Den, Haptik, GreyOrange, and Arya.ai are all in the soonicorn race already. 
Early-stage startups like Beatoven.ai which provides royalty-free music, matchmaking platform Betterhalf.ai, Chatbot-as-a-service provider CoRover, performance management platform Enthu.ai, and location-based intelligence platform GeoIQ, are among the many which promise a bright future. 
The value proposition of AI for investors is evident in the fact that Microsoft has already invested $10 billion in Open AI, along with announcing a new version of Bing. Google has followed up with its own chatbot called Bard, albeit with a rough start.
We often tend to follow the US in terms of tech businesses; maybe we can break the pattern now. It's time to choose to be leaders rather than followers.