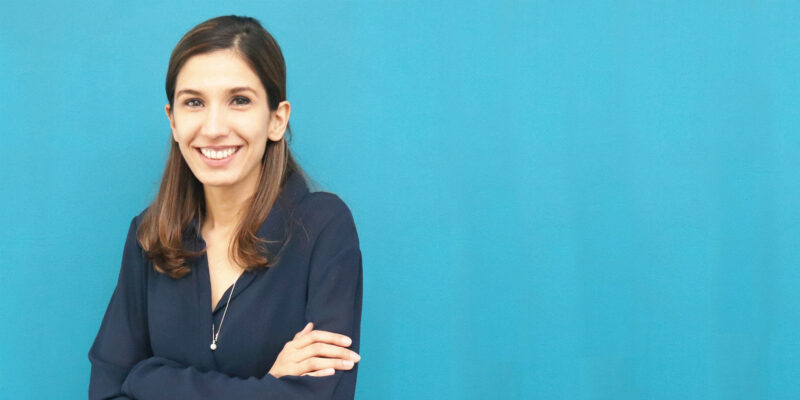 The Bellwether Club
You need Capital, or Connections, or Competence to be an Entrepreneur : Suchita Salwan
By Pranav Mahajani 
For the fourth edition of The Bellwether Club – trica's interview series with India's most prominent startup founders and investors – our guest is Suchita Salwan, founder and CEO of discovery-led-commerce startup Little Black Book (LBB).
The name Little Black Book had aroused my curiosity when I first heard of it. The term usually refers to a book of things you love. I think Suchita's LBB is, in a way, similar – it is the ultimate address book (and more) for the digital consumer. When it comes to lifestyle categories in retail, LBB's app guides you to online and offline stores you would love – just like its namesake! 
I was, naturally, excited to speak with the brain behind LBB – even more so when I heard about her previous experiences at the BBCW and CommonWealth Games. I could immediately see that she is a no-nonsense person, clear about her purpose, and that her wisdom and confidence comes from her experiences. Suchita's mother is a cardiologist and father, a lawyer. Her paternal family runs a chain of schools and owns a furnishing business. Her maternal grandfather was in the army. Suchita says, "Everyone in my family is very 'type A' and works their tails off. So, my general understanding of all things – work, life – came with a very professional lens."
She tells me about the humble beginnings of LBB as a Tumblr-blog, with her savings of Rs 40,000 as initial capital, and how it ventured from content to commerce in the last few years. 
Growing an ecosystem of content creators, emerging brands, and SMEs around it, LBB established itself as a player to reckon with, and raised more than $8 million from angel investors and VCs. A few months ago, LBB was acquired by Nykaa, one of the most prominent e-commerce firms in India which went to IPO last year. (LBB continues to operate independently.)
Not only is Suchita's entrepreneurial venture one of its kind, her experiences before starting up were unique too.  
After graduating in Economics from Delhi University in 2010 – when India was hosting the CommonWealth Games – she started working for Wizcraft, an events company, which was organising the CWG event. I was excited to know more about her experiences, and Suchita didn't disappoint!
How was your experience working for the CWG?
I was excited; the Commonwealth Games was a matter of national pride! 
The opening and closing ceremonies of the Commonwealth Games were organised by a small team. I think I was the youngest person in this team, and managed all the operations for one vertical, for about 14,000 cast members, working with the creative director. 
It was so lovely to see so many people from different walks of life come together and put on a great show. Both the opening and closing ceremony were phenomenal. I saw ground up what hustle, blood, sweat, and tears look like, especially in the context of something that's as high pressure as delivering a ceremony watched by millions of people across the globe!
You were part of the team when the BBCW Entertainment channel launched in India. How was that experience, moving from an Indian setup to one of the most respected media houses in the world? How did you stick around for nearly two years there?
It was a great opportunity. Again, I was the youngest in a team of eight that launched the channel in India. I worked with the managing director of the channel. We brought a roster of shows to the Indian consumer- like Top Gear India, The Graham Norton Show, Sherlock (drama series). It was almost like working at a startup in a larger company.
The companies that I have worked at have always given me a very high degree of ownership. At BBC, I was managing massive marketing budgets even though I was just 21-22 years old;I was not used to seeing that kind of money being spent on customer acquisition. I was lucky to have had bosses who trusted me. I learnt a lot about digital audiences, marketing, advertising etc. 
Now, being a founder, when you look back, what makes BBC tick?
At the BBC, everything is done to perfection; the devil is in the details!
The biggest brands in the world have been built with that focus on details. Unfortunately, such attention to detail is lost today.
Most people are relatively flippant about brand identity and in visualizing what brands mean to consumers. The BBC, on the other hand, excels at building brand-first.
So, from BBC, you took all those lessons and moved on to start up?
LBB started out when I was at BBC, as a side hustle, but I wanted to pursue it full time because I believed there was an opportunity in it.
In 2013-2014, I was learning the SMB market, and how content, discovery, and distribution works. 
I didn't have a polished product to take to the consumers then. By mid-2014, I put together a semblance of a team; Dhruv joined me as a co-founder. We built a very strong community through our website and Facebook. In 2015, things started coming together, and we raised our first round of funding. LetsVenture also helped with some connections.
Typically, people rush to raise funds as soon as they have an idea. But you were not in a hurry. Did you think at the time that this was a scalable business?
I did not start LBB with the goal to make it even a fundable business. My initial capital was my savings of Rs.40,000!
I can continue doing anything as long as I'm learning. I left the BBC and Wizcraft because I had got all that I needed to, and it was time for me to learn something else.
With LBB, I learnt everything from coding to data analysis, and monetization to team building. But the clarity around what LBB is, the market we're going after, and what we stand for – I don't think that came before 2018.
Our total addressable market (TAM) is the top 20-25 million households in India who have the capacity of spending discretionarily on lifestyle products. The opportunity we saw was that this customer cohort are the early trend adopters, but they get bored of the same old experiences and want a supply of lifestyle that is fresh and relevant to their tastes. LBB provides that.
You wanted to empower small and medium enterprises with LBB. But it's not easy. Was there ever a sense that you can't do so many things, and it's better to go back to somebody who was doing it better? Or was it like – if you empower them, there is enough business to be made?
Businesses built for SMEs in India have not had great success. It is difficult to scale after a point, which is why we never said our business was for Kirana stores. That space is best solved through platforms like Paytm or Udaan. (The opportunities are in supply and payments.)
There are different types of SMEs in India. I think our inflection point came when we were able to isolate the characteristics of an SME that would make us successful. Categories like fashion and home, which are core to us, are built on the back of the mid to long tail of suppliers and sellers. These are typically businesses and sellers who are 'mini manufacturers.' We give them the opportunity and ability to grow through our platform.
Most successful companies today have more than one founder. How has having a co-founder helped you?
It helps when you have different skill sets and personality types.
My co-founder Dhruv Mathur had studied Information Systems and Engineering at Carnegie Mellon, worked at Deloitte, moved back to India, and launched his own startup in the payment space called FBPay. His background is in tech and product; mine is in operations and marketing.
Dhruv is focused, precise, and calm. The role I play is in finding business opportunities and building those up with momentum. The jugalbandi of our skill sets and temperaments has worked well.
 Because every business has ups and downs, and you need to be a leader to steer the business forward. The best co-founder ships are ones where each knows the role they play and have the security and self-awareness to step back when needed. We have been lucky that way; many co-founder ships explode! 
How would you advise a young founder on product-market fit? Without that fit, you cannot scale or have leverage nowadays. 
I don't believe in the concept of product-market fit. It is an American, technology-first terminology. India has too many types of consumers, and what it takes to get to 100,000 users is very different from what it will take to get to 1 million or 10 million. 
My advice is: pick the right market, and be open minded about what your product is.
For businesses like Zomato and Airbnb, their product is their operations and supply (respectively). The manifestation of their product is a website and an app; but consumers come to them for their operational excellence, and their uniqueness in supply.
LBB's product is the unique supply. Its manifestation in LBB's first version was in the form of content, and in LBB 2.0 was enablement of commerce.
In early stages, instead of chasing product-market fit, find things that push you to your next phase of growth. That could mean experimenting with a different customer within a market, or with a different value proposition, or a different positioning to consumers.
Raising capital is always tricky. Often, when we talk to investors, they ask if the founder is impressive, if the founder can explain what they are doing. What was your experience with fundraising? 
There are a lot of founders who have raised a lot of money from investors who otherwise seem very smart but have no idea or insights about the market they operate in. I have met founders who are building solutions for SMEs but have no empathy towards the challenges that these SMEs face. 
But they have raised a lot of money; I'm sure there must be something in the team and pitch that makes them appealing to investors.
We have worked with some incredible investors. But I have noticed that most investors – if they don't understand the market – think it doesn't exist! That's why we need more diversity on the VC front. 
There have to be folks from different walks of life, not just IITians and bankers, among investors. You need people with more diverse experience, because they just understand cohorts in their own unique ways. 
Something we often discount in India is that it is a privilege to be an entrepreneur. You need capital or connections or competence to be an entrepreneur.
We often see founders who don't want to sell even if they get strategic interest. But you went for acquisition by Nykaa. Can you take us through your journey when you made this tough decision in your life? Did you spend time with Nykaa founder Falguni Nayar?
It was not a tough decision, really. I know most founders like using the word 'baby' for their startup; but I wouldn't refer to my startup as my child. It's something that I have gained a lot from,  and companies need to see outcomes. You can run a company for years, go for an IPO, or sell it, or shut it down. You need to pick the best option from these for your business. 
Coming to us – LBB engages with 16 million users, and 90% of our traffic is organic. But we had to have this conversation with ourselves: What's going to take us to the next level? 
Around August-September of 2021, a couple of companies reached out to us to explore synergies. From those conversations, we understood that e-commerce companies were diversifying their supply and seller monetisation, while prioritising user retention and engagement. LBB has exactly these strengths. So, we started thinking more strategically about how we could leverage our learnings and capabilities. We interacted with a handful of companies, and had multiple term sheets and terms under discussion at different points in the process.
When the conversation with Nykaa started, we saw there was a common vision about our consumers and how we reach them through content and community. 
Nykaa values and understands consumer engagement, which is evident in everything from their visual merchandising to the brands they on-board, their social media and communication strategies, etc. Nykaa can now leverage LBB's content, community and supply-building capabilities.
Also, Nykaa has 400+ emerging brands and businesses in fashion and home categories. That was a common area of interest. Nykaa helps emerging brands grow; a space that LBB excels in. 
Falguni understands all three – content, emerging brands, and the need to diversify revenue streams. You do not want to sell your company to someone who does not know how your company works! We pursued Nykaa, because Falguni gets what it takes to do what we do.
My last question – what do you do when you're not working? How do you relax?
I have two dogs who keep me entertained! I used to exercise a lot. I should get back to it. 
I read a lot. I am an obsessive consumer of information. I used to have a book club. I do podcasts and I listen to podcasts too. I have become more specific about documenting things that I'm learning; so I post a lot on Twitter, Instagram, and Medium. 
I proactively share a lot because, for me, sharing is a great way to condense my takeaways from podcasts or books. I'm now working on my piece on gut health, and what that could look like in the Indian context. At heart, I am a nerd. I genuinely enjoy geeking out on random things. 
========================================================
You may think that acquisition is a (happy) ending for startups. But with Suchita's vision and energy, I am sure that LBB under Nykaa is set to write another fantastic chapter in the book of new-age consumer tech startups. I've always believed that women are underrated leaders, and I do not doubt that Suchita's alliance with Falguni will inspire more women to come forward as entrepreneurs and leaders. Suchita, who loves learning and gives her best to everything she works on, is an investor's dream, and someone to emulate. Her energy and vision is contagious, and that is what I wish to see more among the upcoming generation of entrepreneurs.
Don't forget to give us your feedback! Write to me: pranav@trica.co