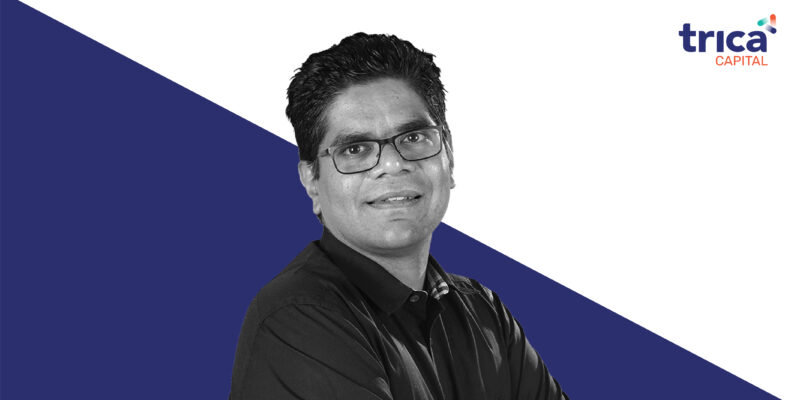 Is the India story big? Yes, and it has been big for many years now but the
question I believe we need to really ask: Is it deep enough?
The answer is not yet. And therein lies the opportunity. We have a long way to go to really create value and wealth by investing in India's technology startups; let me present to you the following stack: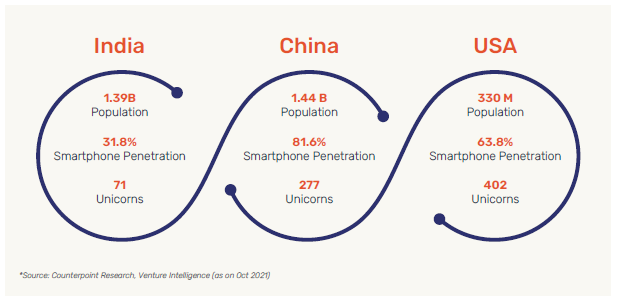 But… the times they are a-changin'.
When we look back, I do believe 2021 will be recognised as the tipping point. For one, 33 of India's 71 unicorns were created this year (as of Oct 2021). Most reports have pegged India as having 150 unicorns by 2025; I reckon this number will be revised upwards in the next edition of these reports. Now one may argue that a combination of low interest rates globally and the US money printing press has made liquidity ubiquitous in both the public and private markets and that has led to never-seen-before dollops of dollars flowing into India. I'll be the first to admit that this is absolutely right. This capital has precipitated a bull run like we haven't seen since the late 1990s and like all bull runs this one too will come to an end; and at that time what every prudent investor will need to do is sit on time. That's the nature of capital markets.
But what this capital flowing into India has also done is that it has put money into the hands of young, hungry entrepreneurs who are ensuring that the digital adoption, which has hitherto been very low in India, changes rapidly. These technology first businesses have much going for them over and beyond the capital that has come their way.
They are now reaping the positive impact of two black swans that India experienced in the past five years. The first black swan was demonetisation of November 2016 which proved to be a tipping point for digital payments and the second black swan was the March 2020 COVID-19 lockdown which really accelerated the pace of adoption of not just e-commerce but also digital services especially in the education, healthcare and enterprise productivity space.
Here's the story in 3 charts
From a mere 93,000 UPI transactions in August 2016 over a one year period that saw the demonetisation-led disruption, the number of UPI transactions had jumped to 16.6 million. By August 2020, a period that saw the worst of the COVID-19 led lockdowns, transaction numbers were at 1.61 billion and as of August 2021 we are well over 3.55 billion in number of transactions. And mind you UPI is just a part of the overall digital payments bucket.
As per the EY Global Fintech Adoption Index, this massive pace of growth of digital payments in the past five years has placed India alongside China as the country with the highest consumer fintech adoption rate in the world at 87%; where the global average is 64% and USA stands at #46.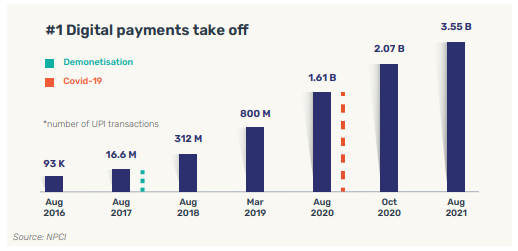 EY defines fintech as "organizations that combine innovative business models and technology to enable, enhance and disrupt financial services" and adoption rate as "consumers who have used at least one non-traditional financial service from a bucket of money transfer, payment, financial planning, savings and investments, borrowing and insurance." With these tailwinds, and India Stack 2.0 which has given us the account aggregator framework to ensure better risk evaluation and recovery, the playground for India's fintechs is indeed very large.

India is home to the third-largest online shopper base of 140 million, only behind China and the US. However, the market is I still massively untapped. There is immediate potential to reach India's large Internet user base of approximately 675 million people. And the multiple COVID-19 lockdowns have accelerated the pace of bringing this user base online.
While for the fiscal ending March 2021 India's overall retail market shrunk by 5%, the e-retail market surged by 5% to reach $38 billion. More importantly, frequent-use categories like groceries, personal care, healthcare, and education saw rapid growth. These habit-forming categories, which have a high share of repeat purchases online, also benefited from a concerted push to accelerate digital sales by leading brands. But what really stood out is that the share of tier II and small towns to new customer growth in e-commerce post March 2020 stands at 80%. In addition to small towns, women and older shoppers have gained prominence in the online shopper base over the last year, and this trend is expected to continue.
But despite the 12-month acceleration in e-retail penetration, by the end of FY21 we are only at 4.6% coverage. And it's this unfulfilled potential that is giving our recently listed consumer tech companies the kind of P/E multiples that are unheard of.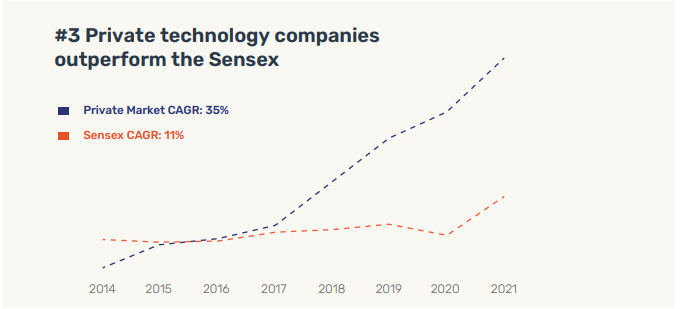 Astudy in the US showed that in the technology space, the age of a new company to go public has gone from 4.5 years in 1999 to more than 12 years in 2020. As more tangible examples, Uber and Airbnb, two of the 10 largest-ever tech IPOs, waited 10 and 12 years, respectively, before going public, long after they had disrupted the industries in which they operate. The same has been true for India with Zomato, Freshworks, Paytm, Nykaa and others.
In the present pipeline of tech startup IPOs we are seeing category and sector leaders listing. These are the best companies for retail investors and even institutional investors to decode metrics and figure out new dynamics of evaluating these companies. If there is one thing we have learnt to focus on when evaluating any private tech company it is this — in the triumvirate of user, usage, and monetisation where does the business stand, and what moats does it have in each bucket.
To my mind the listing of companies like Nykaa, Zomato, Policybazaar — large consumer internet companies — mark the end of the last cycle; the creation of unicorns like Moglix, Browserstack, Infra Market, Zetwerk, Innovacer — solid B2B or enterprise tech companies — marks the beginning of a new cycle. Our survey seconds this with fintech and SaaS topping the charts as sector picks by a mile.
The bottom line is that there is value and wealth creation that will take place in both the public and private markets for the patient investor who believes in the technology and digital disruption story. It's just that the private market because of its incumbent illiquidity actually provides some great behavioural nudges. When investors don't view prices daily, they may be more patient with the investment, hopefully realizing its full potential value over a longer time horizon. On that note, I present to you the first edition of trica's The Private Market Monitor.